THE OLDEST MAN TO CIRCLE THE GLOBE ALONE

On December 5, 1999 David Clark set out on a 2-year journey around the world on his 42-foot sailboat with his dog, Mickey, as his sole companion.

"People like me--we 1924 babies--aren't dead yet. You hear so much about young people, and that's fine. But more credit should be given to us older people. We've still got a lot to do," he declares.
It wasn't an easy trip. For instance, it was not unusual to encounter 25 to 30 foot waves, especially when the gales hit. There were no refrigeration, no showers, and not many conveniences aboard his sailboat. He did, however, have 150 committed sponsors--oil companies, radio personnel, and others.
In the rough seas of South Africa, he lost Mickey when his boat sprung a leak and sank. The determined senior citizen received enough donations to purchase another boat, and continued his journey.
He usually stopped off at ports along the way to restock his food supply and to bathe; however, once during his journey he did not touch land for an entire month! As a professional clarinet player, David entertained at hotels and yacht clubs along the way, supplementing his social security income.
David was born in California and has six grandchildren. He now resides in Florida with his wife, Lynda. She had gone along with him during his first attempt at the round-the-world record, but found the trip a little too adventurous for her. David completed his journey during his third attempt.
David's philosophy: "All of our dreams are achievable. We just have to believe in ourselves."
If you have a travel story, travel tip, an original poem, or a travel joke you've heard, and would like to share it with other seniors, send it via e-mail to
modernsenior@aol.net.
submission form
(Note: Do not send your work as an attachment.)
---
If you've had any experience with a travel group, please share it with our site visitors. Were you satisfied with the agency? Dissatisfied? Would you travel with them again? Click here to send us e-mail or use the comment section in our feedback form below.
---
HOLIDAY IN PORTUGAL
by Roy Stephens
In the Fall of 2003, my wife Isabel and I spent five enjoyable weeks in Portugal. We found the people most welcoming and the countryside very beautiful. Isabel and I can't wait to return! I am sharing our travel experience with you, in the event you decide to spend your own holiday in Portugal. At the end of this article, you will find links to a number of helpful websites where you will find additional information on the various things I discuss.
We visited in early October. Our stay included a month in a resort in the Algarve and over a week at various hotels and pousadas. During our Algarve stay we took a three-day bus tour to Seville, Spain; Gibraltar; and Tangiers, Morocco. We also spent two nights in Evora, a walled city now classified as a World Heritage Site by UNESCO. Evora, located in the Alentejo region immediately north of the Algarve, is well worth a visit.
We found the weather to be very pleasant for the first half of October. However, by the time November arrived the nights and most mornings were quite cool, with temperatures in the single digits. A local Algarve resident told us that the afternoons are usually quite pleasant when the sun warms things up, but nights and mornings can be somewhat cool from November through January. The good news is that temperatures in the Algarve seldom, if ever, reach the freezing mark, especially in places near the sea.
The busy season stretches from June through September. During August the area is teeming with Portuguese folk on summer holidays. Everything is packed… hotels, resorts, beaches, tourist sites, and so on. Because of this, I would say that it would not be wise to visit Portugal in August. Mid-September through early November should be quite pleasant and not too busy.
Read The Entire Article
---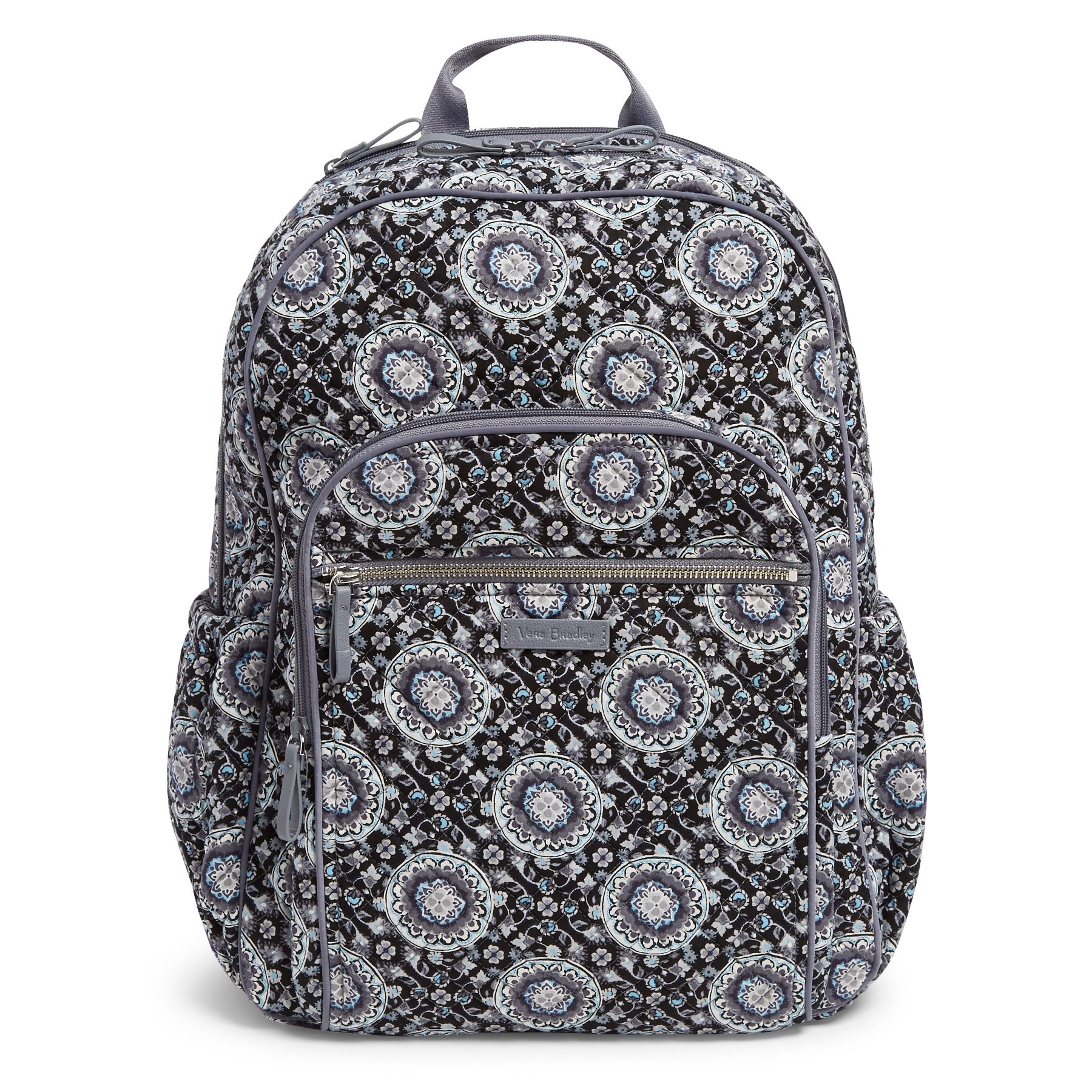 Perfect for vacation, this backpack provides organization for everything. The quilted cotton is colorful, lightweight, and packable. Exterior features two zip pockets, two side slip pockets and a grommet for headphones. Front zip compartment features three slip pockets, four pen slip pockets and an ID window. Main compartment features two mesh slip pockets. Laptop compartment. Padded back and straps. Zip closures. Capacity 26 L.Care TipsMachine wash cold, gentle cycle, use only non-chlorine bleach as needed; line dry. Click on the image for more information, or to purchase.